Can't log in to Windows because you have forgotten your password? Not able to do it on your own? Don't know how to reset the password without a disk reset. No worries, as there are many ways other than disk resetting for Windows 10, a user can with ease can do this.
If you cannot log in to your Windows 10 PC or laptop due to a forgotten Admin password, then this article is very useful for you. You can try to sign in to your computer with a Microsoft account. You can reset Windows 10 admin password without any disk or USB tool. After doing a lot of researches, we've come up with some solutions that might help you reset your Windows 10 account.
Windows 10 Password Reset without Disk
Windows sign-in password blocks unauthorized access to our computer. However, sometimes we forgot their Windows 10 login password. Or correct passwords have not been accepted by Windows 10. This will lock your system.
So if you forgot your Windows 10 password, we are sharing some ways to reset Windows 10 without disk reset:
Method 1: Reset Windows 10 password with other sign-in methods
Check on the login screen whether there are other different sign-in options available or not. If it has an option of login in through an administrator account, that means you have a chance of resetting the account password easily without any disk reset.
Step 1: Log in to Windows 10 with another sign-in method.
Step 2: Open a Command Prompt as administrator.
Step 3: Type net user user_name new_password in cmd and hit Enter to reset your Windows 10 password.
net user windowscape windowscape123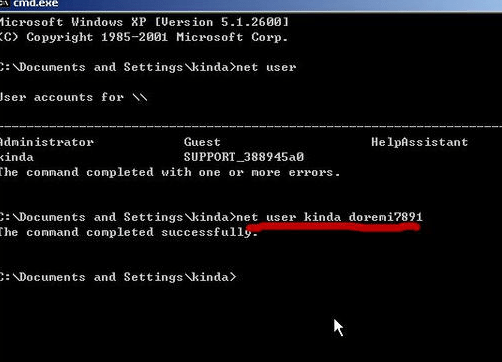 Step 4: Replace user_name and new_password with a new username and new desired password respectively.
Also Read: How to Setup VPN on Windows 10
Method 2: Reset Windows 10 password using Security Questions
You can add security questions to your account in Windows 10 version 1803 or later, so you can use security questions to reset your windows password.
If you type the wrong password to log in to Windows 10, a message will appear on the screen: "The password is incorrect. Try again."
Hit OK on this message.
Then you will be directed back to the login screen and will see a "Reset password" link appearing below the password box.
Click the Reset password link.
Once you click the reset password link, it will direct you to the screen where you will be asked to answer the security questions and then you'll be able to reset your Windows 10 password.
Method 3: Reset Windows 10 Password using Installation Media
If any of the above two methods did not help you here is one more way to the rescue. Windows 10 installation disk helps in resetting a password without any loss of data. If you don't have installation media handy, you can get it on USB or any external device. Though this is a lengthy process it will prove to be one of the best ways to reset a password without data loss.
What is Bypass Windows?
Bypass of windows can be done in two ways: One is if you remember Windows 10 login password but want to bypass it while logging in next time.
The other way is if you have forgotten or lost Windows 10 login password.
Below are few steps on bypassing windows 10 without a password.
How to Bypass Windows 10 without Password
If you have forgotten your Windows local account password and have a password reset link previously created, you can easily bypass your Windows 10.
Step 1: Turn on your device and when directed to the login page, purposely type an incorrect password. After getting "Incorrect Password, Try Again", select the Reset Password link.
Step 2: Insert reset disk and click Reset password link on Windows 10 login screen.
Step 3: Password Reset Wizard will run and you need to follow the instructions to remove Windows 10 login password.
Note: Choose the password reset disk, and while resetting a new password for a user account, don't type anything, just click the next and finish button. At last exit password reset disk and now you can log in to Windows 10 without a password.