Even by having the best Minecraft banner maker, errors are a part of a digital system and it is quite annoying when you do not know how to fix it. If you are playing a Minecraft game and suddenly an error such as Minecraft OpenGL Error 1281 appears on your screen. So if you are also among such users, you are on the right page.
Minecraft OpenGL is a game setting that makes your game smoother and faster by decreasing the load of rendering on the system. In this way, GPU does less work while the CPU gets loaded. We are going to share some useful information that can help you fix Minecraft OpenGL Error 1281. So welcome aboard and have a look.
Why does OpenGL error 1281 occur?
The possible reasons behind the OpenGL error 1281 are as follows.
Some mod modules are conflicting with the game.
If Shaders are corrupt or faulty.
If Forge and Shader's version are not compatible with each other.
When during the Minecraft installation some Java files are not installed correctly.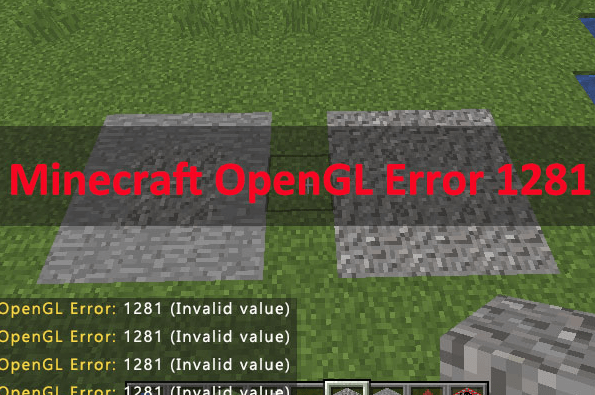 How do you fix OpenGL on Minecraft?
As soon as you encounter this error, make sure your system has an active Internet connection, and you are logged in as an administrator. If even after making all these changes, you get the stated error, try out the following methods to solve it.
Method 1: Update Optifine
Optifine being a Minecraft optimization tool enhances the entire appearance of the game. It has support for HD textures and other configuration options. It allows support for shaders and allows users to get an FPS boost.
Method 2: Get Rid of Shaders
Shaders are a graphics pack for Minecraft which allows players to set different terrains & settings. These mini-mods consume all the resources of the application. So they often create conflict with the other applications. So it is better to disable them to get rid of the stated error.
Method 3: Disable Show GL Errors
Follow this stepwise instruction to disable Show GL Errors.
Open Minecraft and tap options. 
Hit Video Settings > Others.
Choose GL Errors and disable it.
Save the settings and reboot Minecraft.
Relaunch Minecraft and check if the error is gone.
Method 4: Disable Mods Temporarily
Gamers use mods to improve the gaming experience while sometimes it can cause conflicts to the Minecraft game. Find culprit mods and disable them one by one to troubleshoot the error.
Method 5: Update Java on System
As we know that Minecraft is developed from Java and so when you install this game on your system the java files are automatically included. Sometimes when the java files are outdated it may generate the OpenGL error 1281.
Method 6: Reinstall Minecraft
After trying out all the above methods if the error persists the last resort is to reinstall your Minecraft game. At first, uninstall the game from your system. Next, download and install the game again. Reopen the game to check if the error is resolved now.
Minecraft is one of the most popular video games but it is not untouched of common errors. Thankfully such errors can be resolved by trying out easy to do troubleshooting methods. If you are getting annoying errors while playing a game just make sure you are logged in as an administrator and the Internet speed is decent.