Want to rollback and uninstall Windows 10? If you are tired of using Windows 10 then this is the perfect guide for you.
Windows 10, when developed, was certainly a huge leap for the Microsoft company and also it was unveiled in 2015. During this time the users were getting increasingly frustrated with this Microsoft operating system.
Windows Vista was basically a no-no and so Windows 7 was uninspired and it was basically Windows 8 that basically criticized just because of its oversimplification and also it was very mobile-focused UI.
Uninstall Windows 10
In this, the user interface was basically for Windows 10 and it was one of the biggest shifts for the Microsoft users which had been seen. It was pretty much complete overhaul that was bringing the platform in-a particular direction and with some other desktop and laptop operating systems these windows were much easier and smooth going.
Due to Simplified menus, new iconography and different features that were basically blasted for some of the operating systems and also in the 21st century this made it a pleasure to use for the majority of the people.
Complete Guide to Rollback Windows 10
But this was usually a case when a company which basically launches in such a significant overhaul that there were objectors in the market. Basically, for starters, it was such a difficult change and a lot of applications and programs were not been supported from the outset.
So even if you find it difficult you also uninstall Windows 10, then you need to go to Start and then you need to go to the Settings and then go to the option to the Update & security.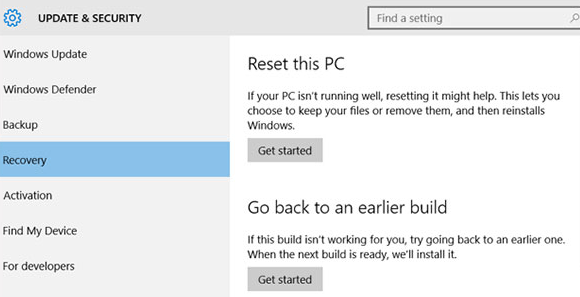 You need to select some of the Recovery and also it is left on the window.
Then you need to look in the right corner of the window and then you will see an option and then you need to Go back to Windows 7 or 8.
Then you need to click on the Get started button that is given below on the screen and then you need to begin the uninstallation process.
NOTE: If you have installed Windows 10 update for more than 10 days then you can not install older Windows versions.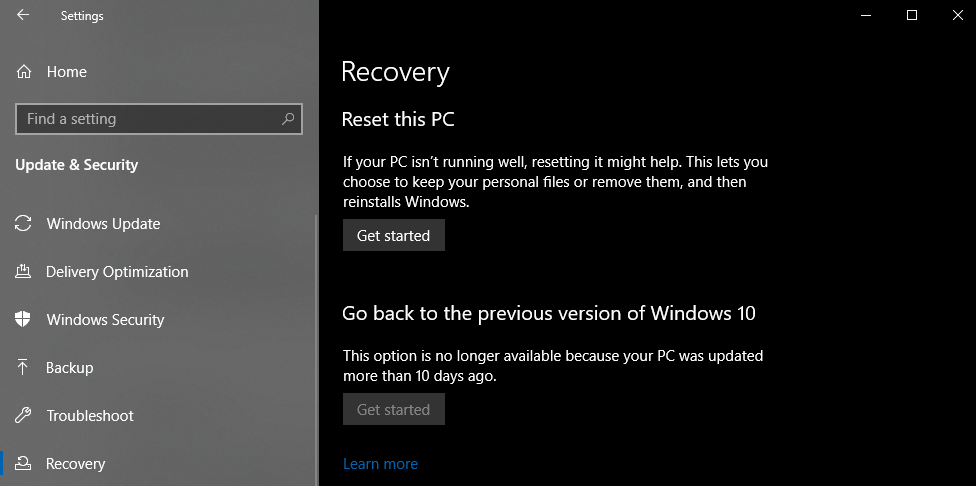 Basically, his will take some time and Windows 10 will ask some of the questions and also ask for the reasons why you're removing it. It will give you some of the warnings and then your PC will restart and also the Windows 10 on your device and then it will be uninstalled. In this case, you can not take anything up to an hour, and also it is depending on your PC, and also there is nothing that you need to do while it is in progress.
Also Read: WMI Provider Host High CPU Usage on Windows 10
As soon as the Windows 10 will be removed, then you will be back at the Windows 7 or 8 Desktop. And it is worth checking that is everything and also is working normally also at this stage and you will have some of the important files that you need to keep them intact. There is also a need to install any other software that is installed under Windows 10.
Uninstalling via a factory restore
If there is some problem and you find yourself at the rollback time limit and you are not going back to any of the old versions of the Windows, then this may installed at hand for some of the users.
On some of the PCs and also on some of the laptops you need to have some of the hidden partition and on the hard disc you must have a copy of the original Windows and also some of the programs, drivers and also some of them in settings, which that was basically on your PC and when you have purchased it back from of the shops. With some luck, Windows 10 will have ignored this and it is also left very much intact.
To access this software when you are booting up or you are looking for some of the messages for that you need to "Press F11 for some of the Recovery Options".
Some of the keys which you the PC wants you to press will ask you press that key and then you will get some menu that has some particular options so that you have to restore some of the factory settings.
You will get some of the restores which are likely to wipe the entire C drive from your device in this case you can back up some of your important data before you wipe out your device. All you need to do is install some type of Windows and then you can update the post-installation and you can use any of the drivers and also the software for your hardware that you have installed on your device.
Using third-party backup software
Even if you have managed to make any image of your device that is before upgrading your device to Windows 10, and also you can use some of the third-party software in which which you need to re-install that is the image that is onto your device and you can get back to some of the previous version of the Windows.
Tools such as EaseUS Todo Backup Free
To create a type of image to, plug into any of the external drives you need to, run some of the todo Backup and in this way you can click the Option on your device to back up any Disk/Partition or any other type of Backup.