Windows 10 is one of the most widespread operating systems in the current scenario. It is also the latest Windows version to date. Windows 10 is full of advanced features, functions, and services. It is even better than its counterparts against several parameters like security, speed, interface, and much more.
But as we know, systems are never immune to errors; every O.S. may face some kind of issues now and then. One of the common problems found in Windows 10 includes freezing. Many users have complained about Windows 10 getting frozen randomly. Let's check out how to fix this.
Windows 10 freezes randomly
You are working on your Windows system, and suddenly the screen freezes for no reason. Pretty annoying, right? Well, do not worry, we have got your back. Such an issue may lead to other problems like BSOD error, or system crash, etc. Let's get to know how to fix it real quick.
Fix 1: Free up disk space
The most common reason behind Windows 10 screen freeze includes full or overloaded disk space. Optimize your system memory and delete all unnecessary files. You can also try a third-party tool for the same. It will automatically detect unnecessary junk files on your system and remove them safely.
Fix 2: Disconnect all unnecessary peripherals
The next thing to do to fix Windows 10 screen freeze is to disconnect all the unnecessary peripheral connections to your system. Too many hardware connections at a time could also be the reason behind the occurrence of such an issue.
If your Windows 10 freezes for a few seconds then get back to normal, there could be several possible reasons behind the same. It can happen when some of your system files are corrupt. Windows offers a utility, i.e., system checker, by which you can quickly resolve this issue with ease.
Fix: Run System File Checker
Step 1: Go to Start Menu > Command Prompt. Right-click on it and choose Run as administrator. 
Step 2: Now, in the cmd window, type sfc /scannow, and hit Enter.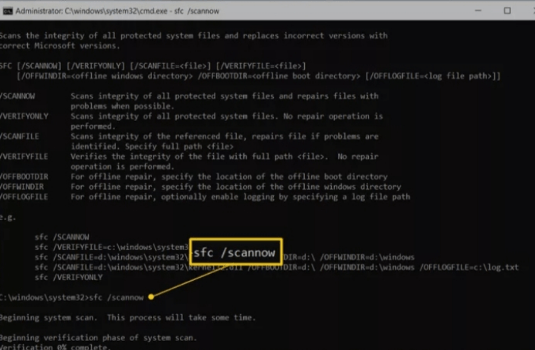 Step 3: Windows will start scanning the system to detect corrupted files and fix them. Let the process finished 100% and then check if the issue is gone.
Windows 10 freezing after update
You have recently updated Windows and after that screen freeze issue started. In such a case, the new update may be the real culprit behind the occurrence of this issue. Here's how you can fix it.
Also Read: Fix Mouse Keeps Double Clicking Problem
Fix: Restore the system
If the Windows 10 screen issue has started only after a recent update, then it is highly recommended to restore your system. In this way, all the old files will be restored, and the system gets back to its previous stage.
Windows 10 freezes when opening programs
Are you facing Windows 10 screen freeze while opening a specific program? Well, the program itself is the real culprit here. In this case, if possible, uninstall the program which triggers the screen freeze. And install the application again. Reinstalling a program will surely help you fix the screen freeze while opening a program.
Windows 10 keeps freezing on startup
Do you experience Windows 10 screen on startup? Well, do not worry; there are solutions for the same as well. If you have turned on your Windows 10 system, and it gets freeze during the startup, you need to follow these steps to fix it.
While holding on the Shift key on your keyboard, click Restart and then release the Shift key.
After the restart process, you will be redirected to the blue help screen.
Go to Troubleshoot > Advanced options > See more recovery options > Startup Settings > Restart. 
Now when your system reboots, press 4 for "Safe Mode."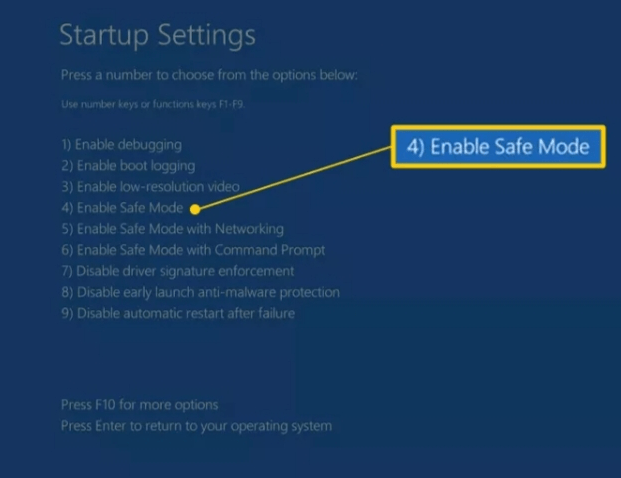 Now right-click Task Bar and choose Task Manager. 
Select more details and click the Startup tab.
Next, single click on each enabled program and choose Disabled.
Finally, reboot to get out of the Safe Mode.