Google has decisively put a step forward to take their user's privacy more fervently. In 2019, Google introduced a straightforward way to access the location History and Web activity. As per their preference, they can delete a part of the entire Web and Location-related history; however, the process is more efficient if you know how to do it properly. But guess what! Google makes it much convenient by offering a new account feature that enables you to set an expiration date for your data. Let's find out how you can set up this feature!
How to Delete Web History on Google
Do you know that Google accumulates and recollects the data of your activities regarding Web search and the Location history? Now Google allows you to auto-delete the record for new users after 18 months. However, it will store your web history interminably if you have previously given the go-ahead for this feature using the default options. If you are an existing user and you want to make Google delete your data after 18 months, then you will have to go into the activity settings and adjust this option. Follow these simple steps to modify the settings to delete your web history on Google.
Step 1. Open the "Activity Control" page on Google and sign-in with your Google account. (Go to this URL – https://myactivity.google.com/activitycontrols)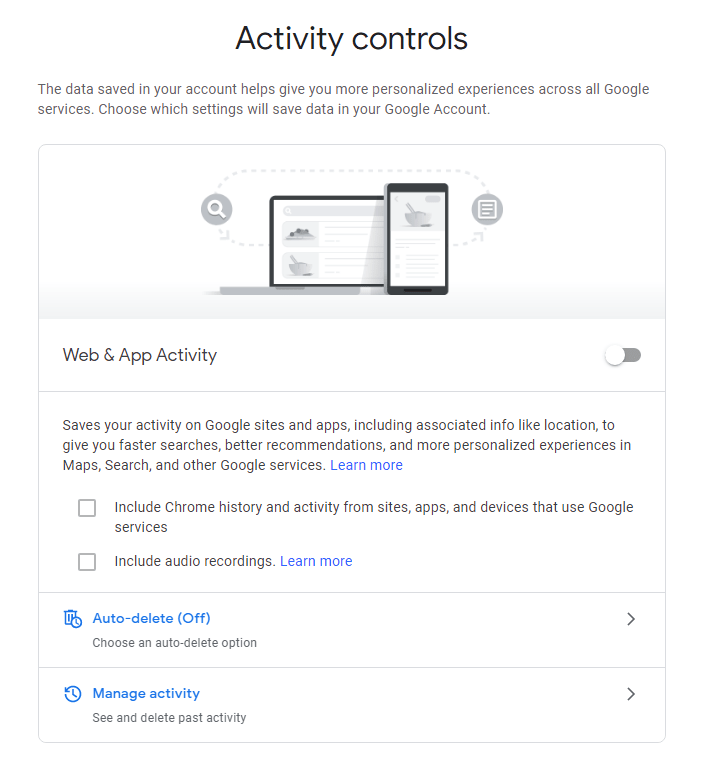 Step 2. Click on the "Auto-Delete" option under the Web & App activity tab.
Step 3. Now select when you want Google to delete your data – After 18 months or three months.
Step 4. Now click on "Next" and then select "Confirm" to save the changes.
Please note that Google utilizes this web history to characterize your experience, including recommendations and web search results. Deleting history data will make your Google experience less personalized.
Related Post: How to Change the Language in Google Chrome
Auto-Delete Location on Google
This particular setting applies to your mobile device. When it is turned on while you are logged in with your Google account, it automatically saves the history of visited locations such as a particular restaurant of your choice or the place where you work or usually go. After completing the above procedure of auto-deleting the web histories, now if you want to make further changes such as setting up auto-deleting the Google location history, then we recommend you to follow these steps:
Step 1. Open the "Activity Control" page and sign-in using your Google account.
Step 2. Check if the Location history toggle is turned on; if yes, then turn it off.
Step 3. Then click on the "Auto-Delete" option under the location history tab.
Step 4. Select when you want to delete your location history – After 18 months or three months.
Step 5. Now click "Next" and then select "Confirm" to save these changes.
Delete Location on Google
There are some things you can do, leaving aside what kind of device you are using. If you want Google to stop tracking your movement or location history, then you can log on to myactivity.google.com using your Google account. Then open the Activity Control from the left-hand drop-down menu. Then a page will open where you can toggle off the location history option, and then you can set up the time frame in which you want the data to be auto-deleted using the "Auto-Delete" option. Set up the time frame between 18 months to 3 months, then click on "Next" and select confirm. Now you are all set to go wherever you want without Google tracking your locations.
Wrapping Up
Google has started to track your web activities, using YouTube or the history of the location to suggest you with the appropriate options based on your search inputs or the places to improve their service and a better experience for the users. However, we agree it can be too much to provide all our information and the details to an online platform.
So if you are willing to allow Google to improve the output suggestions for you, then leave it turned on but if you want to delete your details at a particular time, go ahead and save the settings mentioned in the above post.
Go through all the points mentioned in this post, and then you will be able to set up the auto-delete web activity and location history.
We hope to have you guided well. Thank you for reading.