We all know that SSL plugins are an essential addition to every website. They ensure safe communication, impact customer trust and the website's Google ranking, and prevent hacking or data leaks.
Many SSL plugins are suitable for various needs. Thus, if you own a small-sized business or need SSL for personal use, you can choose some free plugins.
But if you need a more advanced option for your middle-sized business or big corporations, then the best solution would be to opt for a paid option.
Today we will review one plugin that comes as a free and paid version – WP Force SSL. In addition to securing sensitive customer data, it is crucial to prioritize the protection of your WordPress login site. To enhance login security and prevent unauthorized access, I highly recommend utilizing the WP Login LockDown plugin alongside obtaining an SSL certificate for your website.
This plugin is regarded as one of the best SSL plugins, so let's why.
What is WP Force SSL?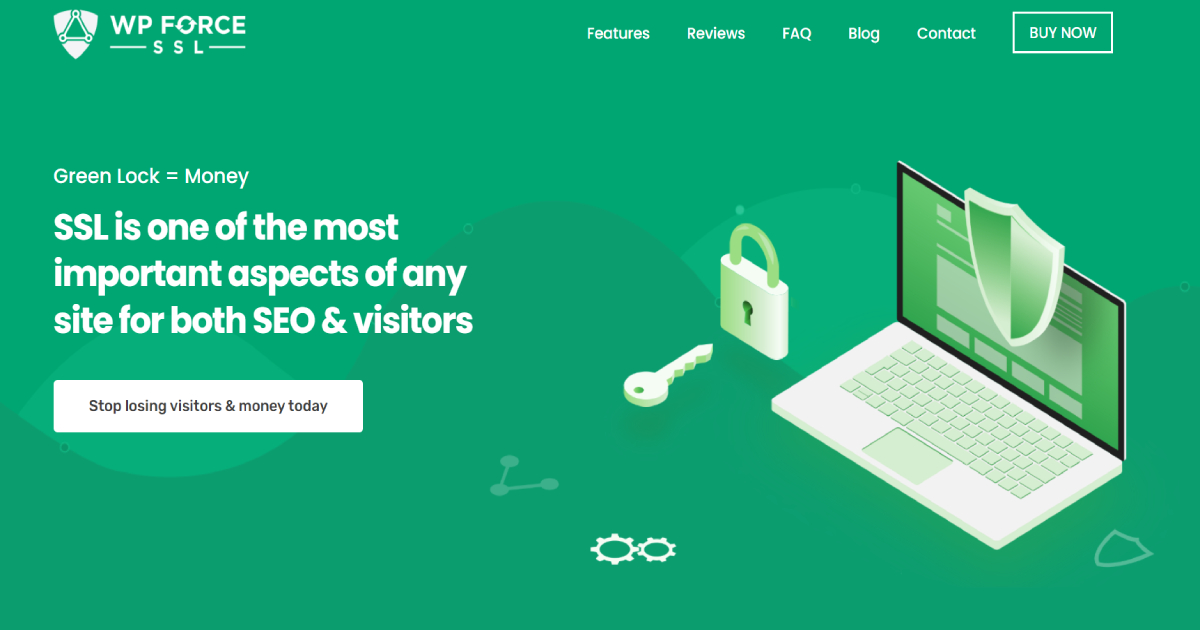 WP Force SSL helps you direct insecure HTTP pages traffic to a secure HTTPS. And with WP Force SSL, you can do this and much more without the need to perform any coding. It comes with many features and possibilities, and it can satisfy everyone's needs.
Moreover, one of the best things about the WP Force SSL plugin is that it is easy to use and straightforward. It is made simple and reliable for millions of users who may not have any technical knowledge.
Why Should You Use WP Force SSL on Your Website
First of all, this plugin has tools that can work with any other plugin or theme. Moreover, the plugin has an automatic content scanner that can check every page of your site in search of errors.
This plugin can automatically generate an SSL for you, and you will be able to install it to your site easily. You can use an SSL certificate for this – either free or paid.
Also, WP Force SSL offers you to move your license between various sites. In other words, if you deactivate your site but you still have your license, you can use it on another site. You can keep track of this and many other things at WP Force SSL Dashboard.
In addition, if you decide to move your website to a different address, WP Force SSL will securely migrate the content to a new page. And guess what – the plugin will do this without coming in contact with code!
It will also add an SSL certificate and any other necessary features. The plugin does the real-time content check, and the website monitors are always on the lookout for any mistake that could harm your site's reputation.
And don't worry whether this plugin will slow down your site. WP Force SSL works in the admin and doesn't change anything in your front-end, so no worries that something will change.
The plugin comes in free and pro versions, and as with pretty much every other plugin, the pro version offers many more different features. For example, content scanning and support are only available in the pro version. You can check out the free version on this link.
If you have a free version, you can ask any questions on their forum or look to the threads to see if someone has answered the same question already.
Next, let's see the main characteristics of this plugin and what makes WP Force SSL special.
WP Force SSL – Most Notable Features
SSL Monitoring

Above all, the plugin constantly follows the SSL certificate on the site and sends notifications if the certificate validity deadline approaches. Also, users get a notification when one of the 50+ mistakes the plugin can follow happens.
Content Scanner

The plugin can scan all content on your page and look for mixed content errors. Hence, WP Force SSL can detect HTTPS content on the page. Not only this plugin detects these mistakes, but it can also correct them or show mistakes together with potential solutions.
That can prevent your page from being hacked.
Also, a content scanner may take a few seconds to check your content. Hence, all of this depends on the number of pages you have. When the scanner finishes checking your website, it gives you a comprehensive list of information:
Types of errors you have on your website
Short description of every error
Location or page where the scanner detected the error
More details about each error
SSL Configuration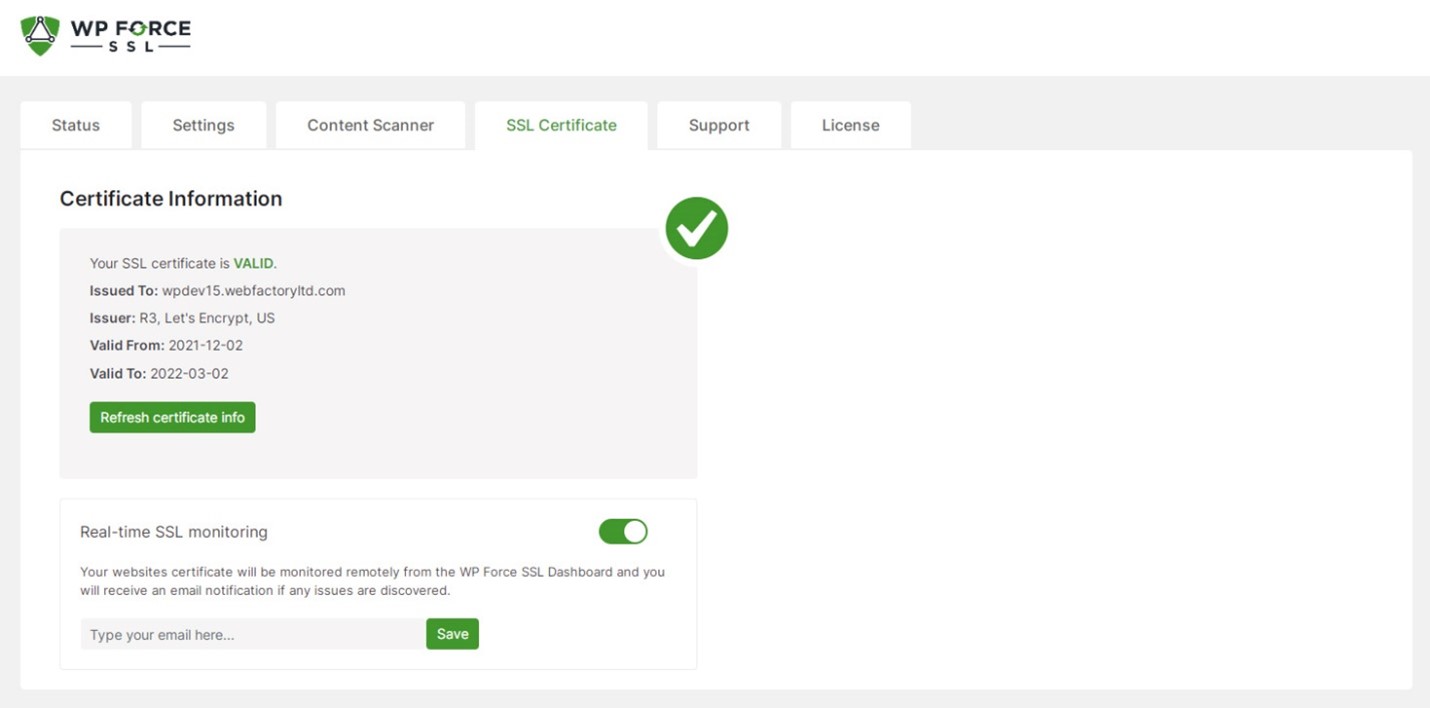 If your page doesn't have an SSL certificate, you can easily install one via the Let's Encrypt page, which is 100% free. That will make your life easier because you will get all the necessary information to install SSL.
Hence, to enable this, select the button "Add SSL Certificate" or "Add Let's Encrypt Certificate." You will be able to activate this plugin with only one click.
However, if you cannot set up SSL on your site using WP Force SSL, you should purchase the WP Force SSL pro version. With the paid version of this plugin, you can generate a free SSL certificate or renew the existing SSL certificate every 90 days.
Centralized Dashboard
On WP Force SSL, you get a centralized dashboard, and you can easily track all your sites, licenses, and SSL monitors without the need to log in to every site separately.
User-Friendly
Lastly, the plugin is easy to use, and you won't need any manuals or coding knowledge to use it. Creators of the plugin give their best to ensure it is simple for everyone, including beginners.
WP Force SSL Plans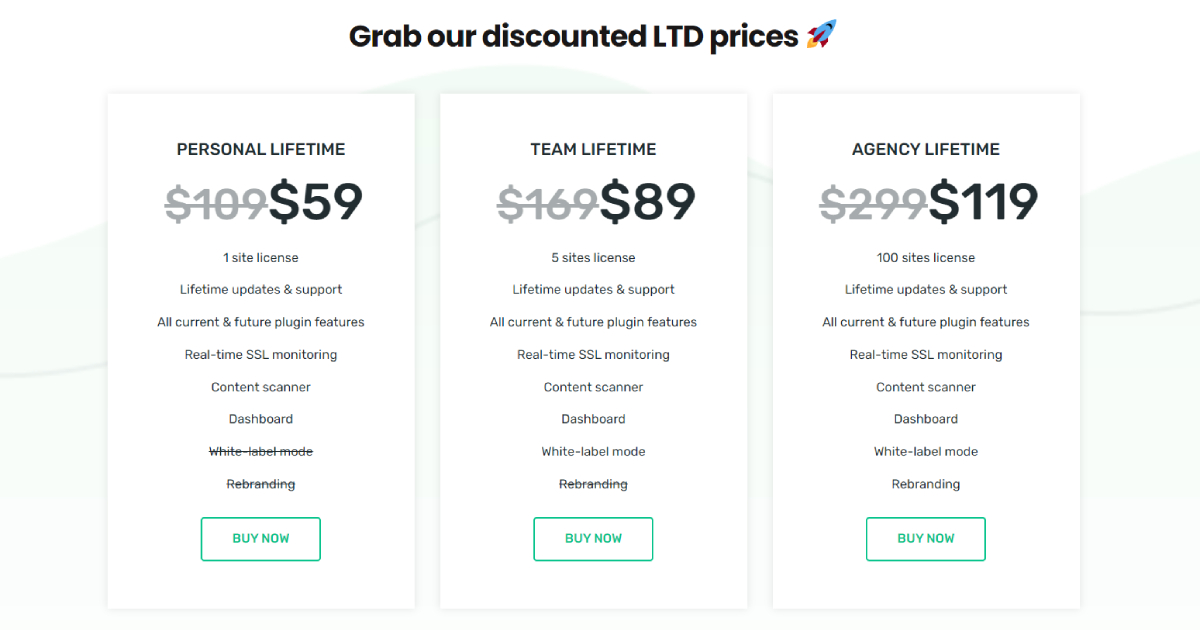 As we already mentioned, WP Force SSL comes in a free version that has many SSL tests, including WP URLs status and expiry date checker.
There are three different PRO plans that you can choose from.
Personal lifetime
In this plan, you get a license for one site, lifetime support, current, and future assets, a content scanner, real-time SSL monitoring, and a dashboard. The price of this plan is $59 at the moment.
Team Lifetime
You can have five sites under a license on this plan, and you get lifetime support, all current and future assets, a content scanner, dashboard, real-time SSL monitoring, and white-label mode. This plan currently costs $89.
Agency Lifetime
With this plan, you can have 100 sites under a license. In addition, you also get lifetime support for your website, current and future assets, and plugin updates.
Moreover, the plan also includes a content scanner, dashboard, real-time SSL monitoring, white-label mode, and rebranding. According to the WP Force SSL website, the price of this plan is $119.
The company also has a no-risk money-back guarantee. If you wish to stop using the plugin seven days after buying the license, you will get 100% of your money back.
SSL Features Included in WP Force SSL
In addition to the features mentioned earlier, we will show you what test options you get with this plugin. Some are only included in the pro version, while some are for both free and pro versions.
Here they are:
Is the site on localhost
Checking SSL certificate
Checking the validity and expiry date of the SSL certificate
Is the latest version of the plugin installed
Are any incompatible SSL plugins activated
Whether the WP URL address for SSL is activated
Whether the WP home URL for SSL activated?
Is HTTPS redirection functioning correctly?
Is HSTS activated
Does htaccess work, and is it available
X-Frame Options
WP Force SSL menu in the admin bar
WP Force SSL widget in the dashboard
These tests are only available in the PRO version:
Is SSL monitoring activated
Does file redirection work
Is 404 redirection activated
Mixed content checker
Force Secure Content
XSS protection
Cross-site scripting protection
WP Force SSL – Quick Summary
To summarize everything we said about this SSL plugin, here are some main advantages of WP Force SSL:
Easy to use and straightforward
Easy to install and doesn't require any coding experience
Works with all types of SSL certificates
Powerful content check solution
Constant check of your SSL
Conclusion
SSL plugin is a definite must on your website. It is not essential whether you have a blog, online store, or any other website you want to keep your data safe.
Additionally, the SSL plugin can help you rank higher in Google searches because it will mark your site safe and reliable. And all of this will impact your visitors, who will more likely visit your site.
Hence, WP Force SSL is one of the best plugins on the market for this. If you are looking for an affordable plugin that will fix your mixed content issues, help you install the SSL certificate, and constantly monitor your SSL status, you should test WP Force SSL.