Who loves taking notes on meetings or going through meeting summaries? No one, we agree.
In an environment where everyone struggles to stay on track with everyday tasks, staying productive is imperative. No one has time to take notes, analyze and summarize meetings with all other tasks that await.
That is why you should invest in the AI software that will do this for you.
This article will present you with the best AI software to analyze and summarize your meetings – Instaminutes.
Instaminutes – Overview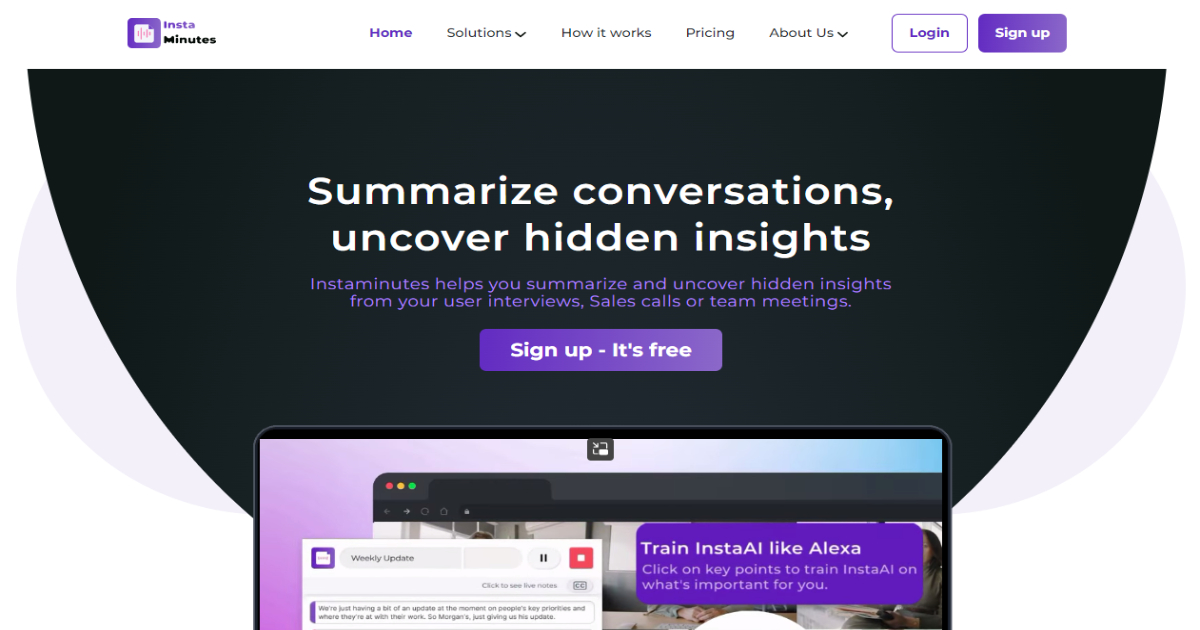 Created for: Sales managers, Product managers, and Project managers
The best alternative for: Fireflies.ai and Otter.ai
Features:
Integrations with:
Google Calendar
Google Drive
Notion
Slack
Trello
HubSpot
Outlook Calendar
Instaminutes – Main Features
Instaminutes offers a Chrome extension that allows you to summarize and analyze meetings. All you have to do to get key takeaways from your recorded conversations are only one click away.
With this AI assistant, you can take real-time interactive notes. Instaminutes automatically highlights the most crucial parts for you. You can also review your transcripts later and train an AI assistant to generate better notes with time.
Instaminutes has integrations with all meeting tools like Google Meet, Zoom, or Microsoft Teams. The software gives a possibility to get actionable insights into the conversation. This will make it easier to understand your audience, clients, team members, etc.
The software dashboard gives you insights into the key moments from your conversations. You can easily see with whom you spoke and for how long. And even better – you can also get recommendations on how to improve customer engagement and conversions.
With Instaminutes, you can listen to summarized versions of your meetings. You can use Instaminutes on mobile or desktop and listen to the most crucial moments of your meeting. The advanced search feature can look for speakers or perform research on specific topics.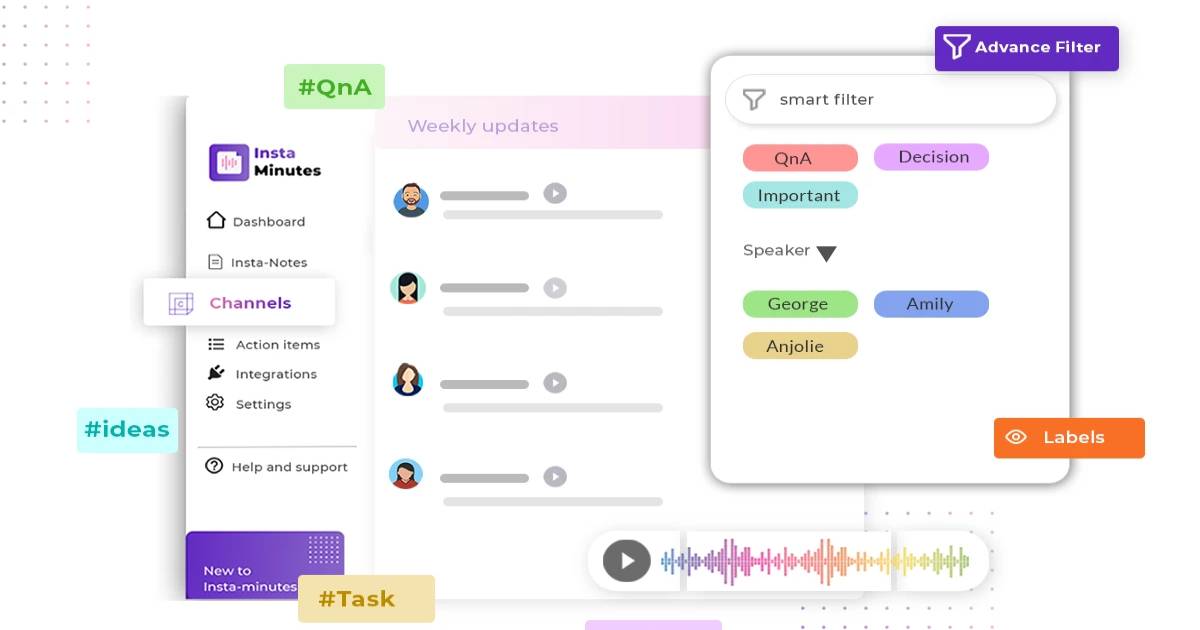 Instaminutes integrates with over 50 platforms, and you can transfer summaries to your CRMs. Further on, you can share meeting insight with your team members or people outside your workspace.
You can also store all your meeting on the cloud server and control who has access to the information.
Lastly, you can turn your notes into actionable insights and a searchable dashboard of key takeaways.
Instaminutes – Pricing Plans
Instaminutes has three price tiers. All price tiers include the following:
Meeting recording for Zoom, Google Meet, Teams, and more.
Google Chrome extension
Real-time and meeting summary notes
Dashboard with analytics
Decision list
Slack, Trello, and CRM integrations
Speaker identification
License tier 1 costs $69 for a one-time buy and includes all the above features plus one user seat and 15 hours of notes per month.
Price Tier 2 includes all the above features, three user seats, 50 hours of notes per month, team productivity analytics, and no Instaminutes branding. This price tier costs $129 for a one-time purchase.
License tier 3 includes 100 hours of notes per month, five user seats, no Instaminutes branding, custom domain, and team productivity analysis. Of course, it also has all the basic features of every package. Licence Tier 3 costs $199 for a one-time purchase.
All tiers have a 60-days-money-back guarantee, and users have to own an active Google account to use the software.
Also, users have the option to upgrade or downgrade between these plans.
Wrapping up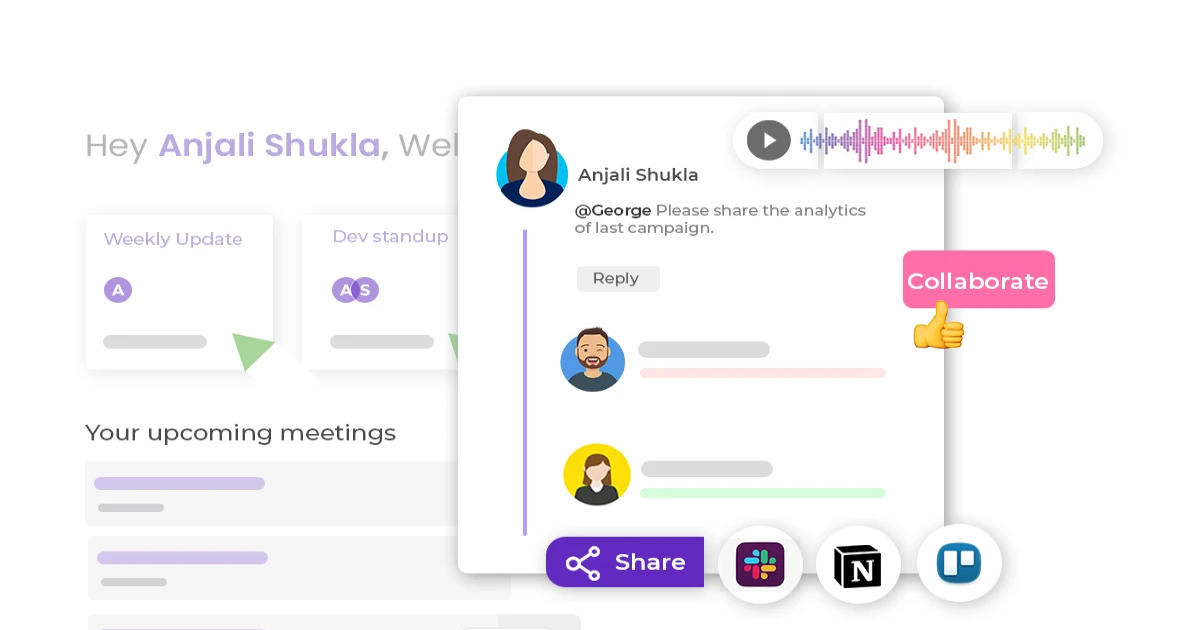 AI meeting assistant is a valuable solution for everyone struggling with productivity. Additionally, it is convenient for everyone who wants to save time in their everyday tasks.
Instaminutes is one of the best AI meeting software solutions on the market. It includes vast feature choices, is easy to use and install, and is cheap.
We couldn't recommend this software more.