The digital age is upon us. While once a simple tool, the world wide web changed how we think, act, and, most importantly, work in this context. Blogging has been a popular profession for a long time now.
But, times are changing, and the competition is stiff. Under these digital circumstances, every blogger and an author can make a name for themselves while working online.
So, to create the best website out there, you will have to choose the best plugins and tools to add to it.
In this article, we'll list the best plugins for authors. Some will help you write, while others are there to ensure your site is perfect in every aspect.
Simple Author Box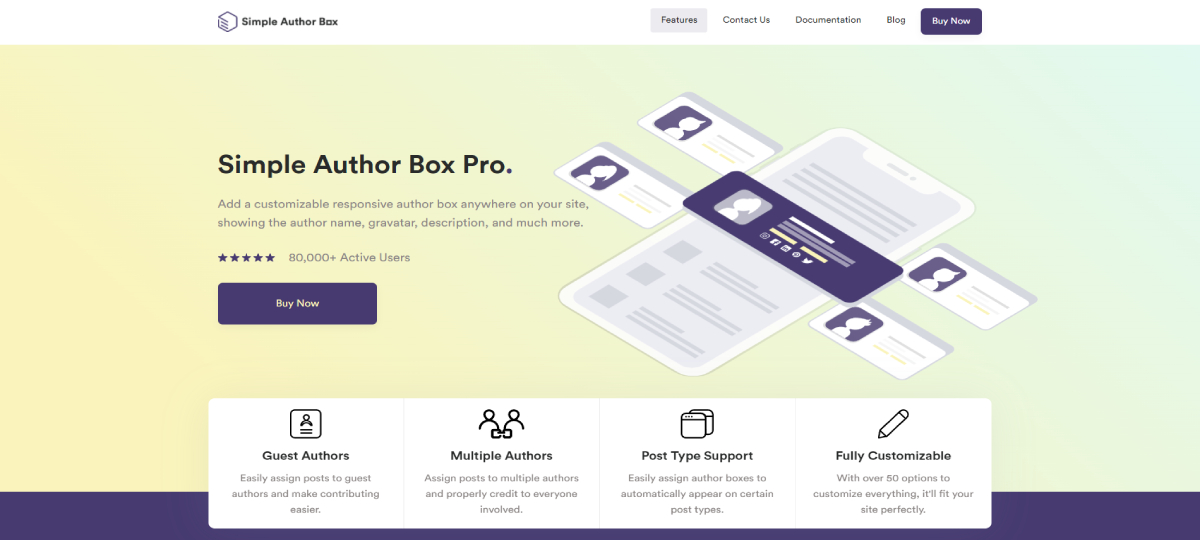 Simple Author Box is a must-have plugin for any author or blogger. When writing is your primary source of income, how can you even begin to start a writing job without crediting the author properly?
WordPress does come with a default author box, but it's usually quite an eyesore and doesn't offer much customization. With Simple Author Box, that changes. The plugin is very user-friendly, and even those with minimal experience will be able to create a top-notch author box using one of the pre-made templates.
If you have some design experience and want to do the whole thing yourself, that's also an option. The editor has eight customization tabs so that you can change anything from font sizes, colors, and font families, all the way to borders and margins.
Let your imagination run wild. Simple Author Box also makes adding links to authors' websites easy and has plenty of social media buttons.
In addition, it's also an excellent option for those getting into guest posting or co-authoring articles. With the help of this plugin, you can credit guests without having to create a profile for them.
In addition, it also allows you to add multiple authors and filter articles by the most popular authors. As we said, definitely a must-have for any blogger out there.
Editorial Calendar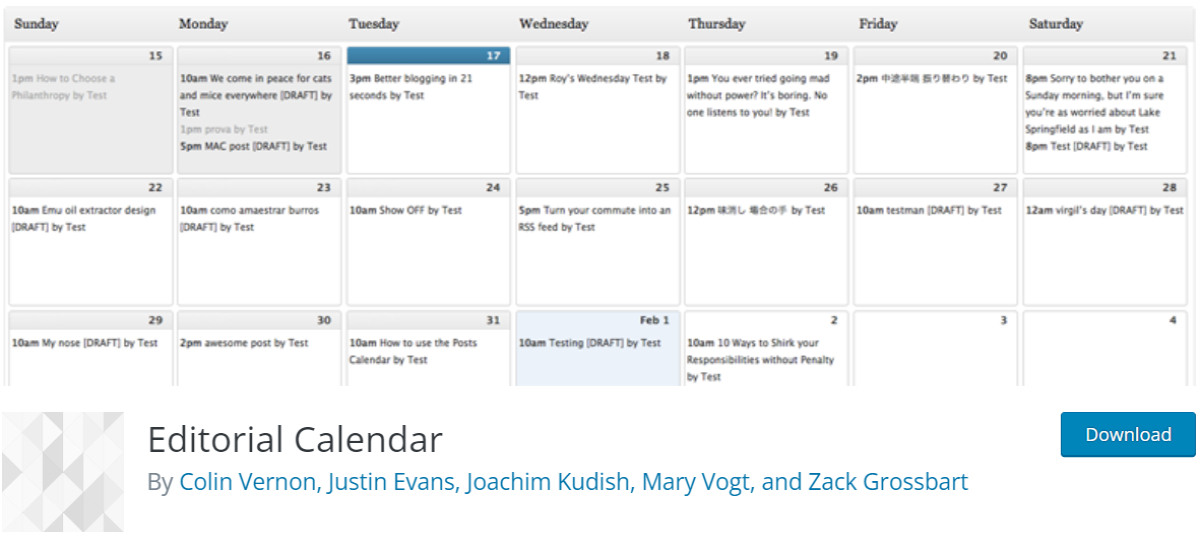 Editorial Calendar is an excellent plugin for authors. You can use it to schedule your posts, keep track of everything you've planned, and organize your workload.
With the help of this straightforward tool, you will be able to precisely adhere to your content strategy, planning each piece and ensuring that your audience will see it at the appropriate moment.
You can also easily adjust the schedule using a drag-and-drop interface, view your posts and published dates, and update the names and content.
You can alter the post's status in addition to its original posting time. For instance, you can mark a particular post as a draft, pending, or future post.
Multiple authors can use this plugin with their blogs. You can, in this situation, specify which users are allowed to publish posts. People have various permissions as editors, administrators, authors, contributors, and subscribers. Readers are unable to view your calendar.
Pretty Links
Many bloggers and writers use affiliate marketing networks to generate additional revenue from the content of their websites. But often, readers do not find the affiliate link structure with random characters to be reliable or alluring. This can perplex readers, prompting many to think that the links might not be reliable.
The Pretty Links WordPress plugin helps bloggers manage their affiliate income and links through several useful link tools.
Writers can access a wealth of tools through the Pretty Links dashboard, including building branded affiliate links, controlling redirection, generating short links for all website content, tracking link activity, and more.
These tools provide bloggers more time to focus on what they love to do most: write!
Content Writer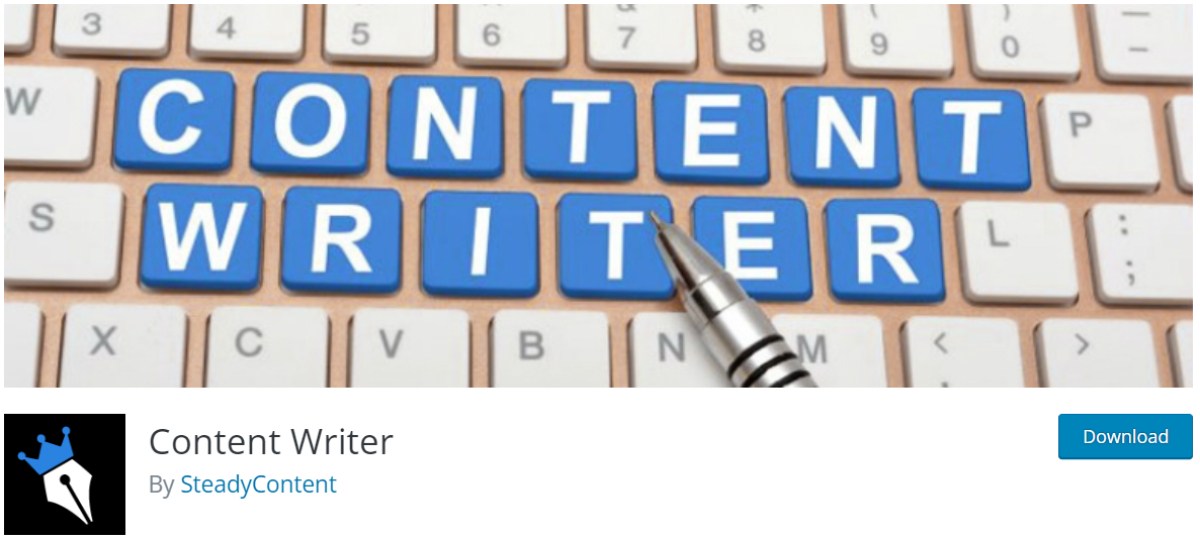 Content Writer is one of the most practical and effective tools that can be considered gold in any writer or author's hands. It's the web's favorite content writing helper and can be a lifesaver if you're ever faced with writer's block.
This fantastic WordPress plugin for bloggers and writers will increase your writing productivity when you find yourself overwhelmed and needing professional help to complete your writing assignments.
Content Writer can quickly handle your content and provide you with alternative word choices anytime you pause. In addition, the Content Writer will highlight the necessary words and their forms, identify the writing tone, and provide additional advice.
EmbedPress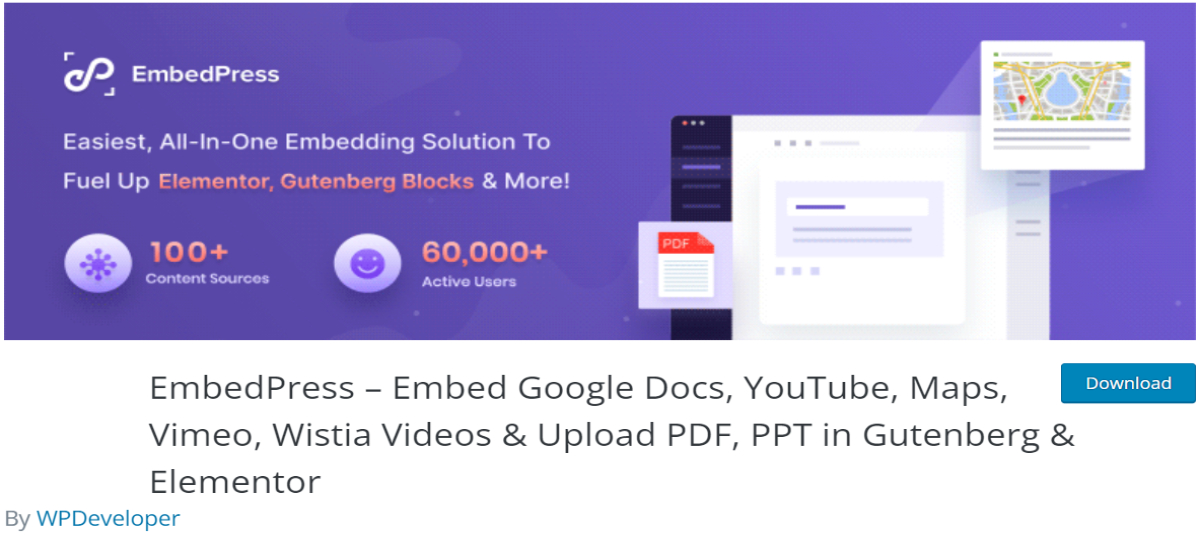 You might need to embed stuff from other websites to produce exciting content. For instance, you can make your content less dull by including YouTube videos or GIFs from GIPHY.
Additionally, you can add audio files from Spotify or integrate social network messages. It is also beneficial to incorporate a portion of a Google Maps map. You would have to alter the pages' code to do it manually.
But with just a few clicks, you can quickly use this plugin to incorporate material from other sources.
You can include content from other sources, like photographs, videos, audio, maps, and social networking posts, in your posts by using EmbedPress. You only need to copy the URL and put it into your article.
Different content categories, like PDF and DOC files, can also be embedded. The plugin supports WordPress editors for Classic, Gutenberg, and Elementor.