A Windows driver works as a bridge between the hardware and Windows 10 OS. Without drivers, you can't use any 3rd party external device like mouse, keyboard, webcam, printer, or graphic card. You have to download and install drivers for all these hardware devices so that they can communicate with your OS.
Why you need Drivers on Windows 10?
The primary function of a driver is to allow your operating system to communicate with hardware devices making it vital. Therefore, if you don't have a driver, any external device you connect, like an external hard drive or a mouse, will not function.
Not only that, an outdated driver highly compromises your system performance and affects your internet connectivity. While using an obsolete Driver, you should not be surprised when your downloading speed is just 100 Kbps while connected to a Wifi with a bandwidth of 12 Mbps.
How to download Windows 10 Drivers?
The most efficient way to download or update Windows 10 would be downloading a driver updating program or an application. Usually, the driver updater is already downloaded by default when you edit your Windows. However, if you want to do it manually, then here are the steps on how to update drivers for windows 10:
Go to the search box and search for Device manager
After selecting, you will see a bunch of different hardware categories. Select the one you want to update manually and right-click on it.
Select Update Driver.
If Windows does not find any updates for you, you can go to the device manufacturer's website and search for an update there. The sites for each device manufacturer always have specific instructions on how to download drivers for Windows 10; therefore, it should not be too confusing.
10 Best Driver updater Softwares for Windows 10
Although, at first, manually updating your device driver sounds like something for which one would need an expert. However, using a driver updater, all you need to do is click a button, and the application will do all the work for you. A good updater will keep your devices up-to-date and improve and enhance the performance of your PC altogether.
Here is a list of the 10 best and free driver updater software for Windows 10 in 2021.
1. Bit driver updater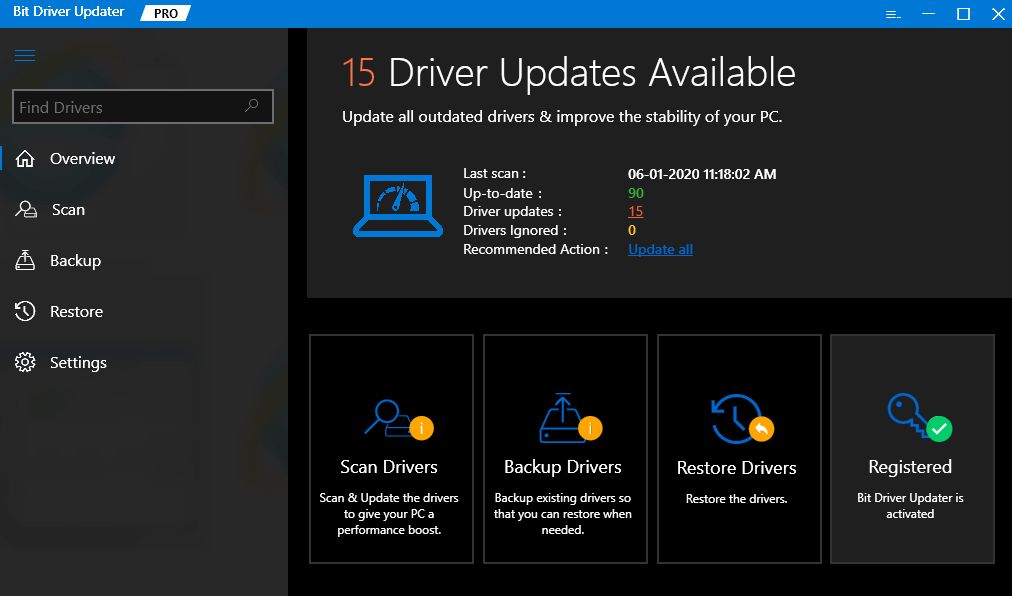 With a wide range of features, Bit driver helps your PC stay stable, secure and improves performance with its up-to-date drivers. The best part of Bit driver is its ability to detect any outdated and missing drivers and then proceed with the update. The software also has a backing up feature where it backs up your old driver before updating. This software can restore backed-up data later. It is compatible with all the latest versions of Windows and is completely free to download.
2. Quick Driver Updater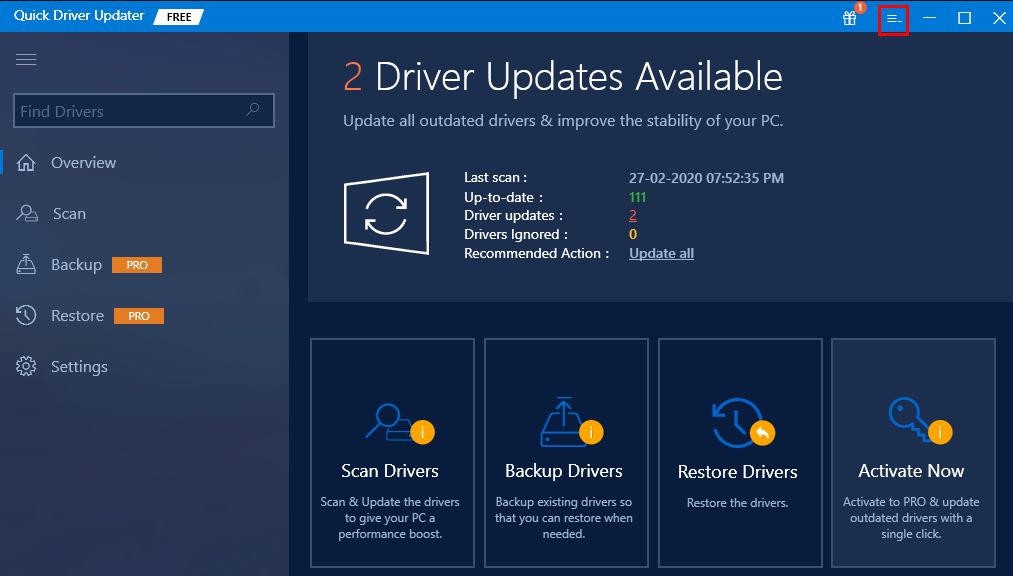 As one of the best free driver updater software, Quick driver updater can automatically detect defective and outdated drivers before updating them. It is a very fast and efficient updater and, with just one click, updates all drivers. It is effortless to use with a friendly user interface. It is an ideal driver updater for gamers, too, enhancing the system's performance and giving maximum output.
3. Drive Booster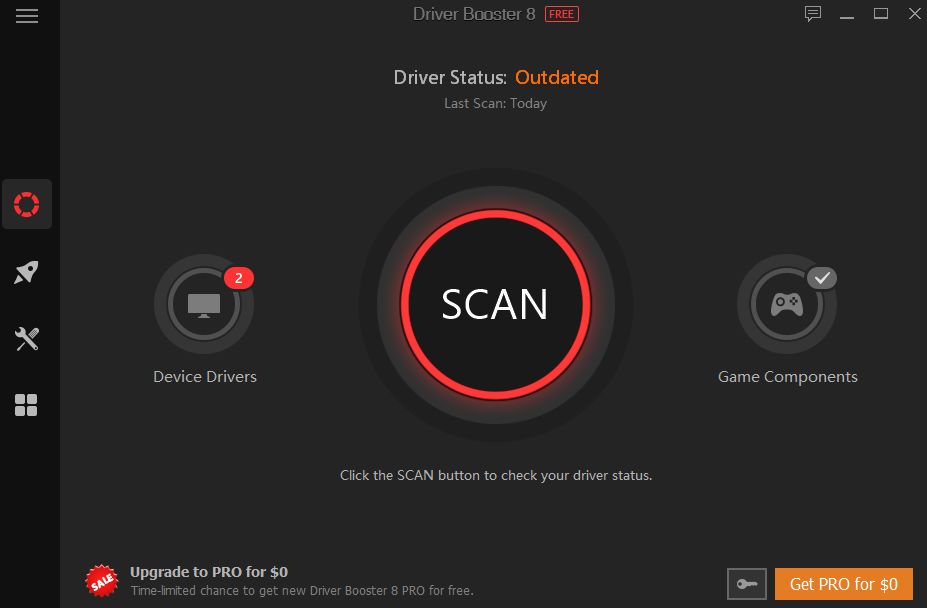 The free updater Program helps to update all the drivers on your PC that have become outdated. Drive Booster lets you search and identify the obsolete drivers while it handles the updating automatically. The program also prevents the system from crashing and improves the all-around performance of the PC. It also has a "Game mode" setting which enhances gaming performance by optimizing the drivers. It is compatible with the latest versions of Windows 8, 8.1, and 10.
4. Ashampoo Driver Updater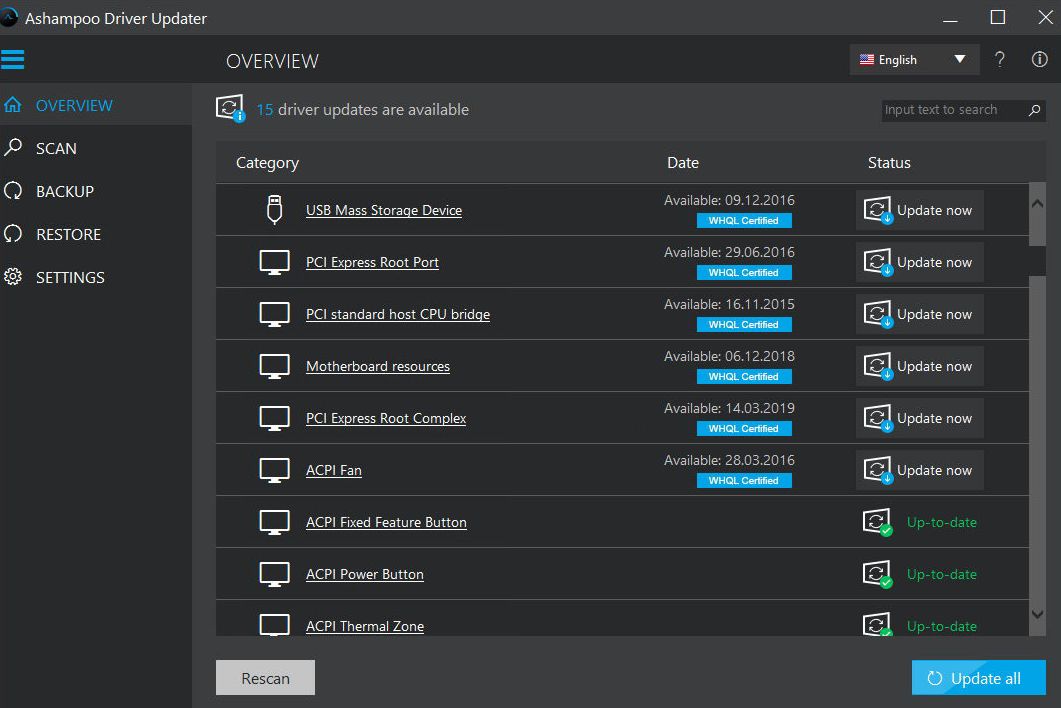 Ashampoo Driver Updater is an automatic driver updater that scans your computer for missing drivers, finds the best one for you, and installs them. It is compatible with all the latest versions of Windows and supports over 150.000 devices with over 400,000 drivers available. It also dramatically enhances your gaming performance, prevents lag, and stabilizes the PC. Although a free version is available, the 1-year plan costs just 14.99 USD with more benefits, one being that you can use three devices at a time.
5. Driver Genius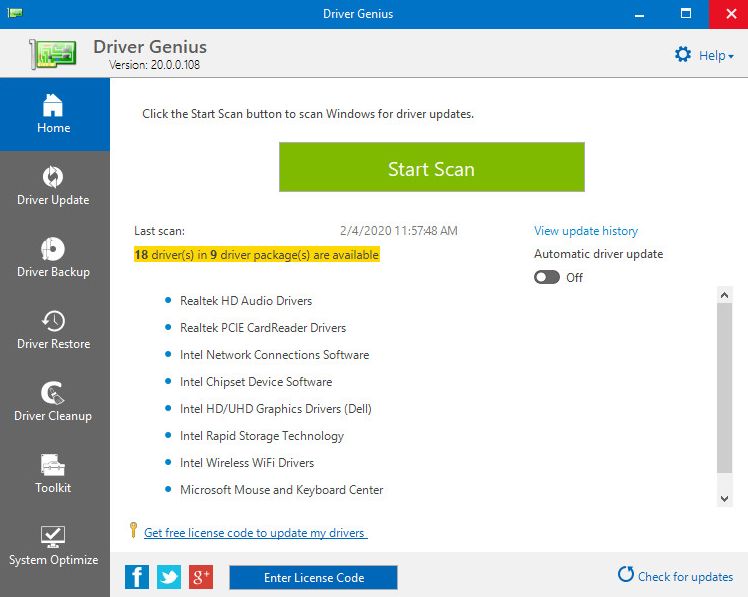 This updater backs up your drivers, restores them, cleans up your PC, and always keeps your drivers updated automatically. With drivers available for more than 160,000 devices, Driver Genius also improves system performance and prevents your PC from getting sluggish. It also has a temperature monitor that notifies you if your PC is starting to get heated up.
6. Auslogics Driver Updater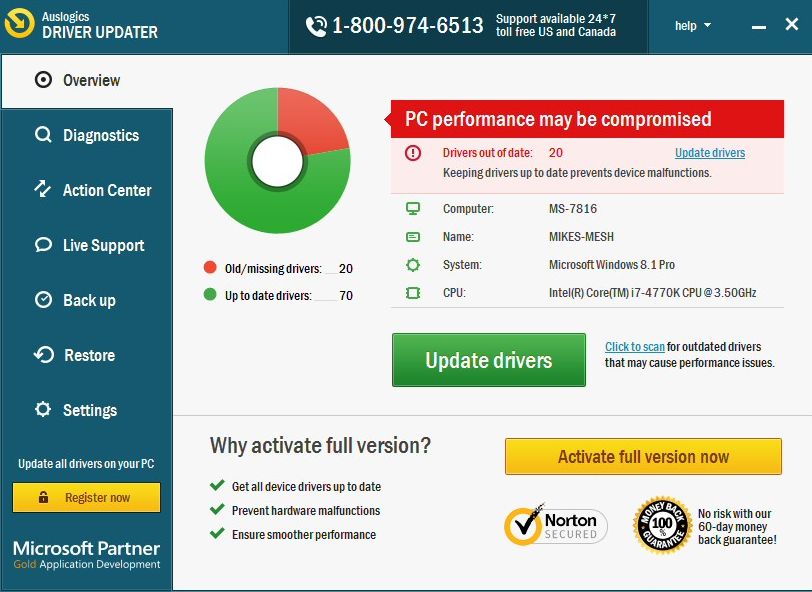 After being on the market for ten years, Auslogics Driver Updater is an ideal updater that ensures the smooth operation of your hardware and prevents device conflicts. An incredibly easy-to-use application that is compatible with almost all versions of Windows, Auslogics is a one-click solution to your computer's driver problems.
7. ITL Driver Updater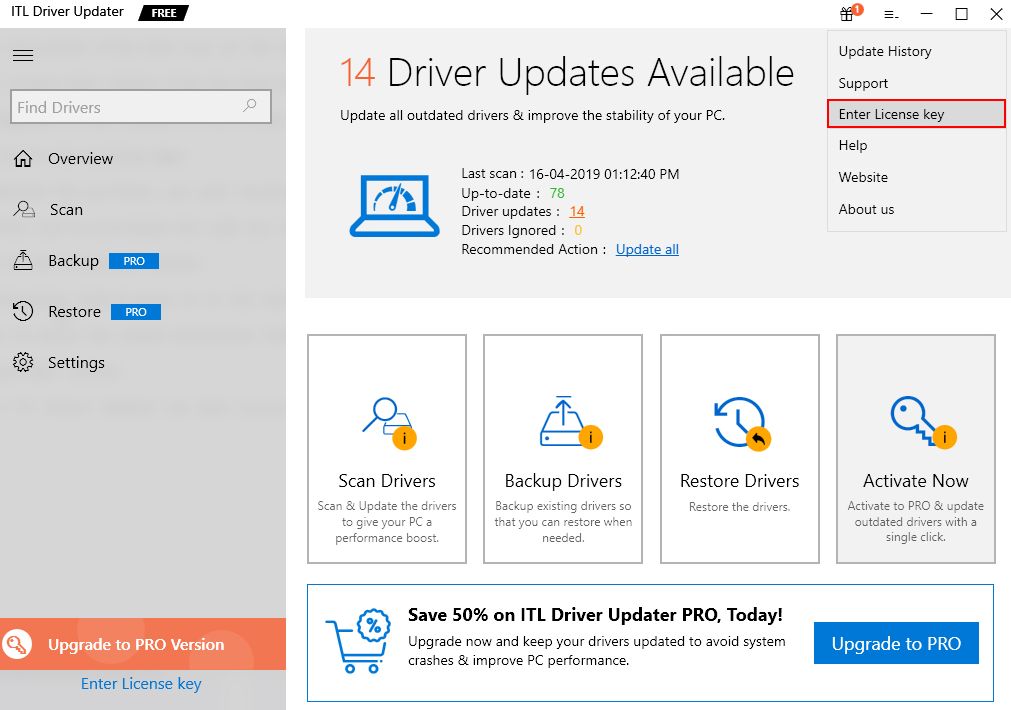 With over 160,000 device drivers, ITL Driver Updater delivers top-notch performance with a single click doing all of your work. The application detects outdated drivers and updates them to the latest version. They also provide you with a 24/7 customer helpline where you can mail them your inquiries and get the help you want for free.
8. The Driver Magic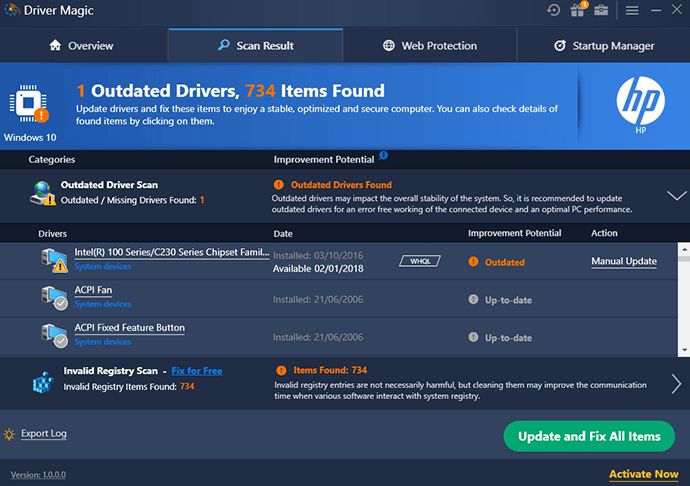 Driver Magic enhances your system's performance most efficiently and updates your drivers. With over 200,000 drivers in its database, it chooses the best drivers for Windows 10 and installs them for you. It not only keeps your device updated but also improves gaming performance by optimizing your system. Driver Magic also provides the user with web protection and prevents malware infections. It cleans all of your invalid registrations and solves the errors for improving the system's response time. It is compatible with the latest versions of Windows.
9. AVG Driver Updater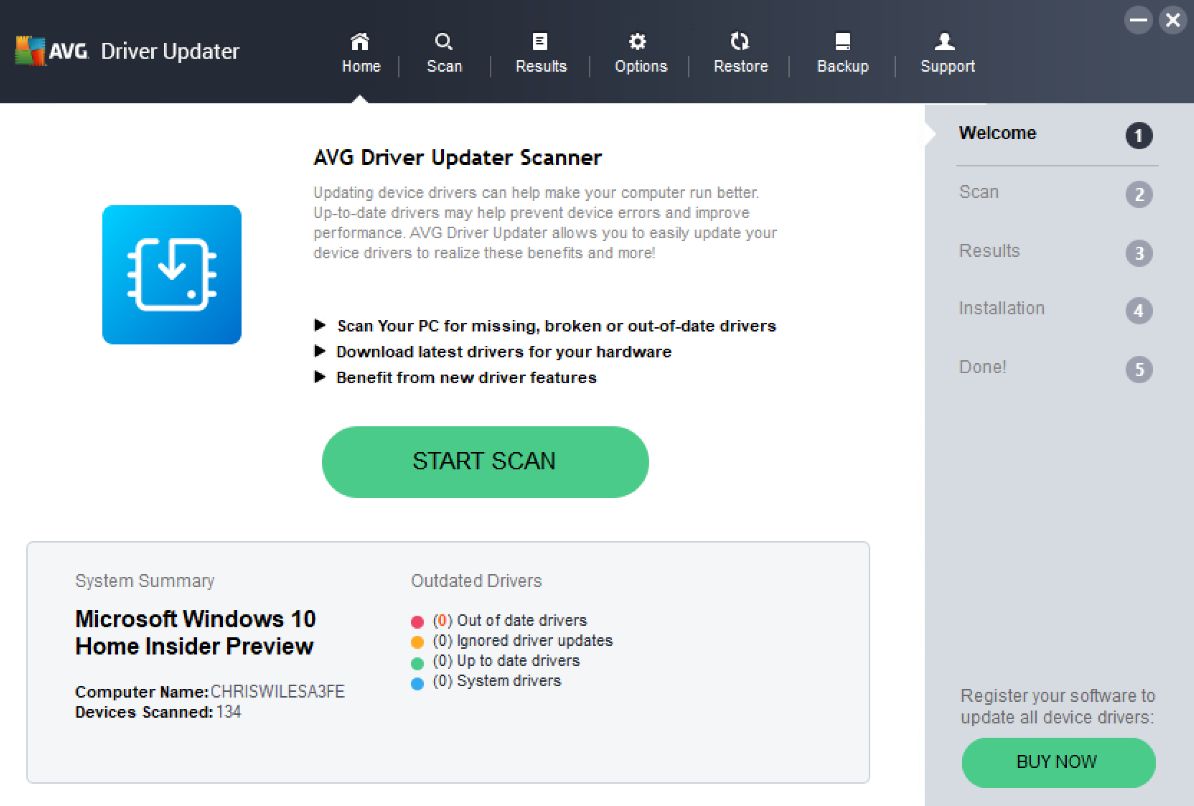 It provides better graphics, enhanced audio, faster browsing, and a smooth operating system. AVG Driver Updater regularly scans your drivers and updates the obsolete ones reducing crashes, lagging problems, connectivity issues, and those annoying problems with the printer. It also helps in fixing a dropping Wifi connection and speeds up your downloading process. With a very easy-to-understand interface, AVG Drivers Updater also enhances your gaming experience and is compatible with all of the latest versions of Windows. Enjoy the benefits of over 5 million drivers by paying 1,999 INR per year.
10. Smart Driver Updater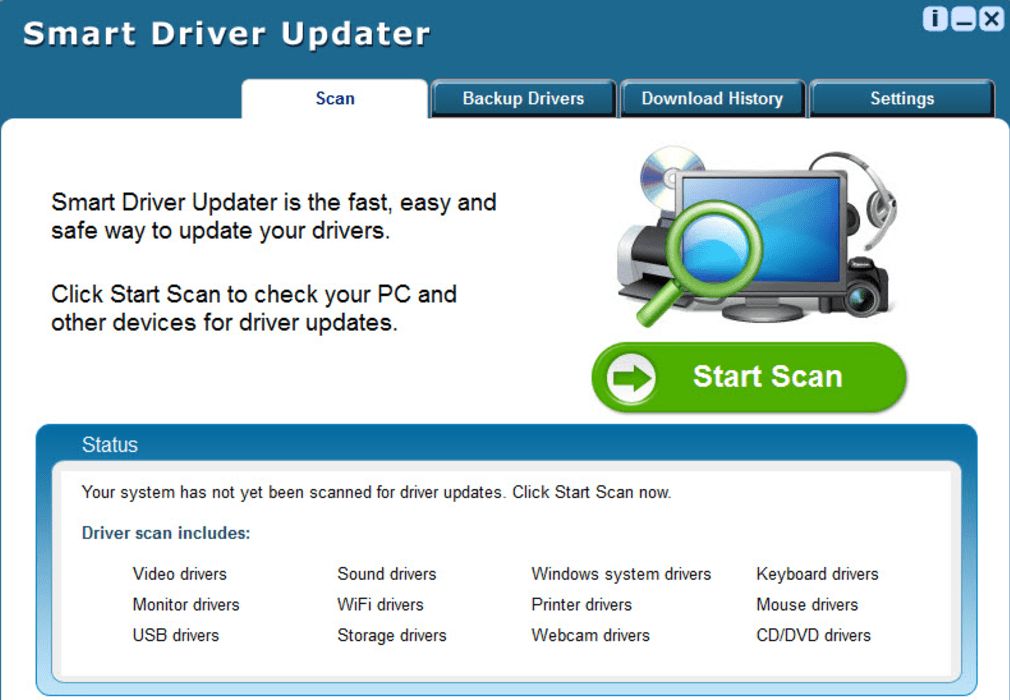 Intelligent Driver Updater scans your PC and updates your outdated drivers from a database of over 1.2 million drivers. It also makes the updating of Windows OS easy and downloads all the correct drivers compatible with the OS. It also has a built-in scheduler that scans your computer regularly automatically whenever it is convenient for you. It is also compatible with all of the latest versions of Windows.
Conclusion
A driver is one of the most critical and useful components of the computer. It is vital as it to choose or lets you select the best and the latest one available. Therefore, the next time your game is lagging, don't go around clearing your hard drive.
Instead, download an updater and see whether it's your Windows driver that's causing the problem or not.
Hope you liked our list.
Also share your best driver updater tool for Windows.