DellSystemDetect.exe, developed by Dell Developers is an explanatory tool that provides crucial system information to Dell to maintain its hardware as well as software. It provides hardware and software support for your system and tries to remove the error using the detection system of Dell. This specific .exe file on running executes an application that in turn facilitates essential tasks related to customer support. We will get to take a deep insight into DellSystemDetect.exe in this article. Let's head start and discuss more Dell System Detect.
What is DellSystemDetect.exe?
This executable file in Windows 10 usually executes protection of hardware and other system running components. It will diagnose your system and resolve the hardware and software system-related issues and tries to resolve them. The primary aim of this file is to ensure complete safety and smooth running of the computer system. To do so, it makes use of system resources which might in some cases created issues.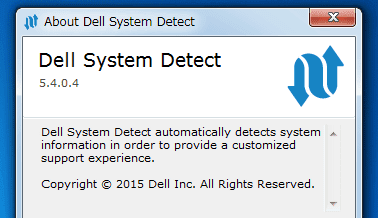 What does Dell System Detect do?
This assisting tool runs on Windows devices to provide a personalized support experience for users. It automatically detects the system information and provides a customized and experience to execute the protection of hardware and software running into your system. It is responsible to do three main tasks as explained further.
Also Check: How to Generate a Windows 10 System Performance Report?
Drivers Detection
Dell System detects checks out the installed drivers on your system and evaluate them against the latest ones. Detection helps in analyzing and detecting the error or glitch in your Dell device using Dell System detect. After selecting your device you can run this utility to check if your system drivers require any update. Keeping drivers up to date is crucial to avoid any unexpected technical glitch later on.
Product Detection
It is another significant feature of Dell System Detect. This one helps you get a quick walkthrough of different features of your PC. Through this diagnosis, you can scan various parts of your device and provide them the required run. It is meant to provide device-specific support. When it runs on your system, it makes use of the service tag to extract all the details like a warranty end date and so on.
Run Diagnostic
Run diagnostic's work is to help in maintaining your system and helps it to run smoothly. The system software allows the product support page to run a feature to locate and resolve the issues related to hardware as well as software. It also communicates an advanced agreement between the devices, so that the diagnosis will get completed and the system problem will get eliminated and the hardware and software-related problems will get detected.
Conclusion
To check the updates of your gadget with the help of online support tools of your Dell system. The main reason for having the Dell System Detect on your device to make sure that your system is running correctly. It helps to maintain the performance of running protocols of your Dell gadget. But sometimes it uses a lot of network and speed to complete the task, because of this the system's performance ratio starts degrading.