USB ports come up with power ratings which are usually 0.5 amperes. Thus mobile charges so slow when connected to this port. While connecting to your USB port to a Windows 10 system, if you encounter an error such as a Power surge on the USB port, then you aren't the only one.
This stated error usually occurs when a device tries to extract more than usual power from out of USB port. It occurs in a form of the error message, along with two buttons– Reset and Close. So today we will discuss how to deal with this error and fix it in the best way possible.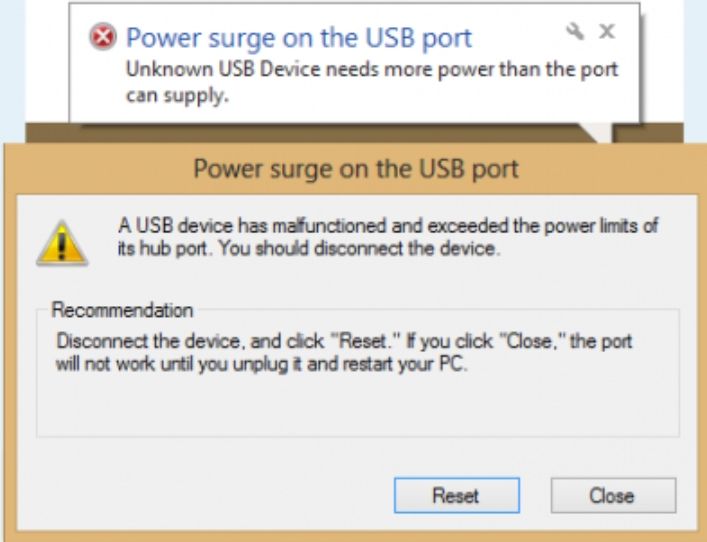 Fix 1: Run Hardware Troubleshooter
Every Windows system consists of an in-built hardware troubleshooter that helps you diagnose the issues related to your hardware. In most cases, this troubleshooter automatically resolves the issue for you. But in case it also finds itself unable to get rid of the stated error, you can try out other fixes explained further.
Fix 2: Reinstall USB drivers
A power surge on the USB port error may occur due to outdated USB connector drivers. So it's a good idea to reinstall your USB drivers. You can also rather update them to fix the error. You can also uninstall or rollback drivers to fix the error. It must resolve the problem but there is another fix at your disposal. Let's have a look.
Fix 3: Run OEM Diagnostics
Windows 10 is the latest windows version and hence it includes OEM diagnostic feature. Sometimes it automatically fixes the issue for you.
Also Read: Fix Video Scheduler Internal Error in Windows 10
Fix 4: Try a USB Hub
It is possible that the error is device-specific instead of being system-specific. So you can either change the device you are connecting to the USB port or connect the device to the USB port of another device.
Fix 5: Turn off the notification option
To get rid of the stated error, you can also turn off the notification warning related to USB issues. Just go to general Windows 10 Settings. Uncheck the option– "Notify if there are any issues connecting USB devices."