Overwatch is a multiplayer video game developed by Blizzard Entertainment. It is among the most popular video games among others. It has several interesting add-ons, features, graphics, and much more. Here is an in-depth guide for how to reduce overwatch buffering on Windows.
We are going to discuss one such interesting Overwatch feature, "Reduce Buffering". In addition to that, we will let you know what does it do? You will also get to know about triple buffering and more. So without further delay, let's get started.
What does triple buffering do in Overwatch?
In rich graphics games like Overwatch, you must see this option of Triple Buffering. In computer graphics, the content you see on the screen is known as 'front buffer'. Meanwhile, your GPU prepares other screens in the back buffer.
So when GPU finishes rendering in the back buffer, it tries to flip between the two frames. When the Vsync is disabled, your display will finish only half of the buffer and start the swapping. But if sync is enabled, it waits until the full image is scanned out before swapping.
The triple all more frames render ahead. But it means the GPU can not start rendering new frames yet. In simple words, triple buffering is something you would like to have in real-time shooter games like Overwatch.
Will Triple Buffering increase FPS?
Yes, triple buffering may increase FPS (Frame rate) a little but only to the extent, your card is capable of. The frame rate gets doubled as compared to the double buffering.
But it decreases the input lag in comparison to the one in double buffering. Instead of two frames in a buffer, it adds the third one to the queue resulting in the increased rate of FPS.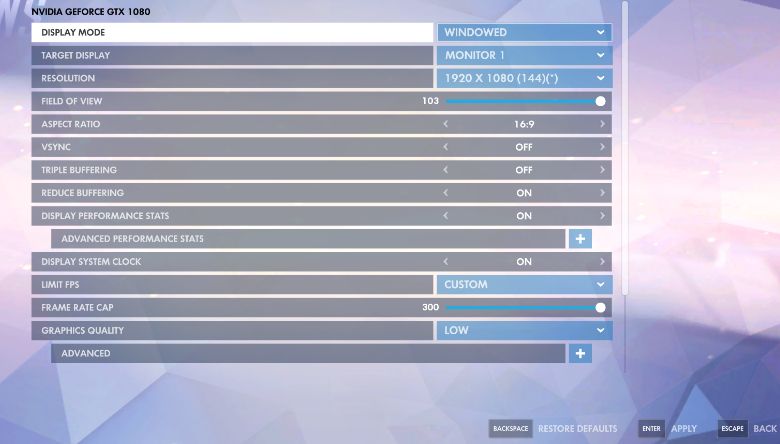 How to Reduce Overwatch input lag?
Input lag is one of the most common issues that prevailed in the field of FPS multiplayer games. This issue is quite persistent and annoying. Here are some feasible solutions that you might consider to reduce Overwatch input lag.
#1) Check Internet connection
Sometimes the slow internet connection generates several types of lags while playing a game. If Internet connectivity is not acting as a roadblock then you need to check out the system requirements as explained below.
Also Read: Fix Discord Screen Share Audio Not Working
#2) System Requirements
It is important to know whether your system hardware is capable of handling the rich graphics of video games. Here go some minimum system requirements as follows.
Operating system: Windows 7 – 64 bit
Processor: Intel Core i3 or AMD
Graphics: NVIDIA GTX 460
RAM: 4 GB
Hard Disk: 30 GB
Internet: 4 MB
Resolution: 1024 * 768
#3) Check Ping in Overwatch
Although there isn't any direct method to check the ping in Overwatch, there is another way to do so. You can check your ping times for the game by direct performing a traceroute to the game server. Therefore in case of facing any lag in Overwatch, it is better to check your ping times with the game server prior to the running of the game.
#4) Rubber banding issue
The rubber banding effect is another common Overwatch lag issue faced by the players. It is mainly related to the server-side issue but solely related to the problem with ASUS ROG users. The remedy to it is by uninstalling GameFirst st III from your computer system.
What even is Reduce Buffering?
Reduce buffering is mainly aimed at decreasing the input lag. It lowers the pre-rendered to a lower amount. As long as your FPS is exceeding the maximum refresh rate of your monitor, it is recommended to turn this feature on.
You can turn this on if you want
Decreased input lag.
Slightly worse visuals.
You should turn it off if you want
Increased input lag.
Slightly better visuals.
But there isn't much difference in the visuals so you may consider keeping it turned on instead.
Pros of Reduce Buffering
Reduce Buffering reduces input lag significantly but in case you have a high frame rate you may not even notice. People with high-end computers would want to reduce buffering immediately.
How to increase FPS in Overwatch?
There are lots of options that you may consider to increase FPS in Overwatch.
Go to video settings and reduce the resolution.
Set these options low as much as possible – triple buffering, dynamic reflections, local reflections, texture filtering quality, local fog detail, model detail, lighting quality, anti-alias quality, and refraction quality, etc.
You can also leave the render scale to 75% for the massive performance boost.
Also, make sure that there aren't any major resource-draining applications running in the background.
How to Deal With Overwatch FPS Issues?
If you are facing Overwatch FPS issues, you can follow some tips given above. The most common FPS issue includes low FPS which are required to be increased. Hence the options that are given earlier might help you get rid of FPS issues like a pro.