HP Support Assistant is a Hewlett Packard free utility meant for assisting users with HP computers released after 2012. It consists of some features like software updates, and quick troubleshooters to help you resolve problems.
You can access it by clicking on the blue question mark link given with the windows. But sometimes we come across a situation where we don't want notifications every now and then. In this article today we are going to discuss how to disable HP Support Assistant.
How do I Disable HP Support Assistant Quick Access?
You can disable HP Support Assistant Quick Access by following the steps given below.
Launch the HP Support Assistant by tapping on it.
Go to Settings at the bottom left corner of the window.
Head to the Health Analysis tab and select Frequency on the drop-down menu.
Now select Never.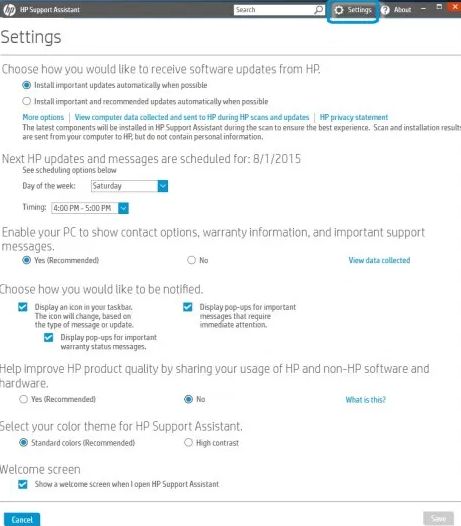 Go to How would you like to receive software updates and messages from HP? from the drop-down menu.
Now from the options, select Never check for updates or messages (not recommended).
Next, go to Change tune-up schedule and choose Never.
Finally, click Save and you are good to go.
Also Read: Dell Warranty Check
Turn off HP Product Status
Here's how you can turn off HP product status.
First of all open the HP product folder.
Right-click the HP UPD and select Properties.
Now choose the Device Settings tab.
Under the Installable Options section, set device status notification as Disable.
Finally, that's how HP product status will be turned off.
Enable HP Support Assistant
You can enable the HP Support Assistant by downloading and installing the same online. HP support assistant automatically downloads the latest updates for your system. When you check for updates by going to Devices, it is activated and does the job for you.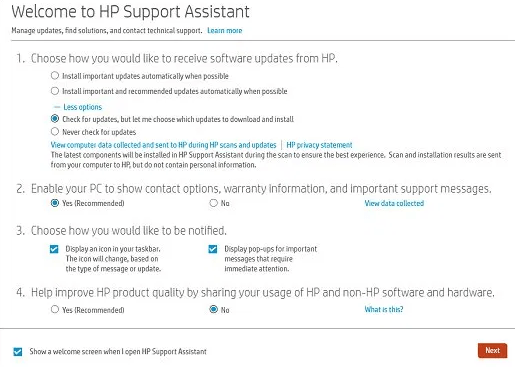 Uninstall HP Support Assistant
In case you want to get rid of the HP Support Assistant completely then follow the steps as given below. You can uninstall the HP Support Assistant as follows.
Go to Control Panel and then go to uninstall a program.
On the Programs and Features, select HP Support Assistant and then click uninstall.
Tap Yes to confirm the uninstallation.
Finally, reboot your system to complete the process.
How to Fix HP support assistant won't open Issue
If your HP Support Assistant which comes pre-installed on your HP system is like a lifesaver for you. As it downloads updates for you. But if you are having some trouble in opening the same then you can try out some fixes as explained further.
Reinstall HP Support Assistant – You must consider reinstalling the HP Support Assistant in case it isn't opening. That's how you can do it. You need to just press Windows + R and type control. In the control panel, go to Programs > Programs and Features. Select HP Support Assistant and click uninstall. Follow the on-screen instructions and then you are good to go. Reboot the system to complete the uninstallation process. Now go to your favourite browser, search for HP Support Assistant and reinstall it on your system.
Update the HP Support Assistant – It is also possible that you are using an outdated HP Support Assistant and hence it is causing some issues. Therefore it is important to keep it updated as well. You can run the HP Support Assistant installer and then click Yes. Once the installation is done, that means your HP Support Assistant is updated. Finally, reboot the system and you are good to go.
Third-party help
Microbyte London can help your company with all IT Support issues such as broken printers or setting up new laptops securely.