Updating to Windows 10 is not rocket science. Anyone can download or upgrade to Windows 10. The issue is, somany users are facing issues in Windows 10 like Sound Not Working, Graphic Card not working, Display not working and etc. INACCESSIBLE_BOOT_DEVICE error is the most irritating error among many Windows 10 users. So today we are going to share how to fix INACCESSIBLE BOOT DEVICE error in Windows 7/8 and 10.
What is INACCESSIBLE_BOOT_DEVICE?
INACCESSIBLE_BOOT_DEVICE error, is also called 0x0000007b. This is one of the blue screen of death error, that shows that your Windows operating system has lost connection your Windows system partition during startup. This will crash your Windows 10 and also restart your computer randomly.
This error message frequently stops computers from booting properly. It informs users that their PC has developed an issue and restarting is important to deal with the error. It says some error information is being collected by Windows and will restart at a percentage. INACCESSIBLE_BOOT_DEVICE error may appear when you start your Windows and it will restart your Windows if Windows can't read data from the system partitions. INACCESSIBLE_BOOT_DEVICE Blue Screen of Death error may occur because of faulty hardware or because of software issues. Restart your computer to avoid the damage.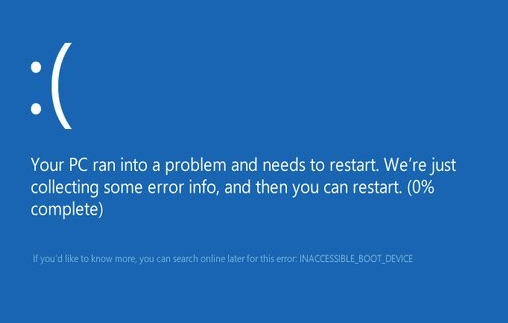 Fix INACCESSIBLE_BOOT_DEVICE Error
Windows typically updates itself automatically. Sometimes due to this Windows update, users are facing many issues such as BSOD, blue screen of death errors. You have to fix these issues as soon as possible as they may harm your system and stored data. Inaccessible Boot Device is among the most annoying BSOD error in Windows 10. Here are some simple solutions that are available to fix this INACCESSIBLE_BOOT_DEVICE trouble.
You will see this error. While upgrading to Windows 10 it occurs. Windows packages and disk controller drivers are the causes of this error. Do not worry, if you experience this error with Windows 10. The mistake can be fixed by you below. There are lots of procedures that could fix the issue. The list has been prioritized by me based on the solutions mentioned.
Solution 1: Try disconnecting external connected devices
Sometime due to connected External devices, you will face this issue. So disconnect all the connected devices and then try again.